About
Nestled on a charming side street in Harvard Square, LOOKS is a boutique specializing in contemporary fashion for today's woman.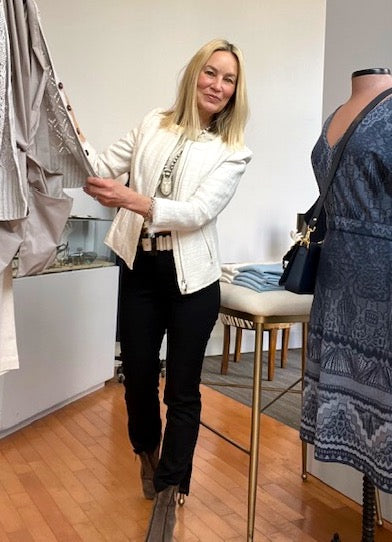 LOOKS
LOOKS has been around for 30+ years. Annette Duclos has owned the store for the past 14 years, after working with Judy Armell for 10 years in its previous incarnation.
Annette believes in enjoying life. She loves a reason to gather, she wants you to surround yourself with good friends, to smile and laugh. What you wear on those life occasions; the boardroom, an across the Atlantic conference, sets the tone for how you feel. At LOOKS we want you to feel extra good, extra special. Every day. Because that's what we have, the here and now.
Annette strives to create a collection each season that speaks to the moments in your life. Each piece is curated to not only enhance your wardrobe but to be worn with confidence as you go about your business. Through extraordinary design construction and little important details, LOOKS enjoys finding the balance between fun and fantastic. If you walk out of your house feeling awesome; because you look fabulous, then out in the world great things are bound to happen!
The boxes have become a natural extention of how the store styles you. Fill out the Style Guide; and whether you are within miles or across the country - a curated box styled specifically for you will be sure to delight and inspire as you do you out there in the Universe.
Try a box today - itʻs a win win.
Sign Up Now
Store Info
Hours

Monday - 12:00 pm – 6:00 pm

Tuesday - 12:00 pm – 6:00 pm

Wednesday - 12:00 pm – 6:00 pm

Thursday - 12:00 pm – 6:00 pm

Friday - 12:00 pm – 6:00 pm

Saturday - 12:00 pm – 6:00 pm

Sunday - 12:00 pm - 5:00 pm
Store Location

2 Arrow St, Cambridge MA 02138
Phone Number